Super Bowl Recipe Idea #2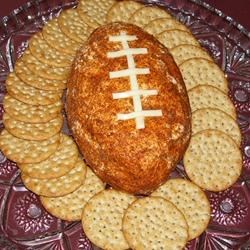 My family always does it BIG for the Panthers pregame tailgate party! We always have such a big display of food, drinks, and entertainment before heading into the games. But, one particular game someone brought a cheese ball, not just the regular ball of cheese...Oh no! This cheese ball was in the shape of a football. Seriously, so cute! It was super yummy, easy, and, of course, festive!
Get the recipe here!
Enjoy!
XO
Amanda

Amanda is from Marshville, NC, and a graduate of Central Piedmont College. She worked as a dance instructor for 3 years and ventured into the retail world, working as a personal stylist. Amanda was an Official NFL Cheerleader, for the Carolina Panthers, during the 2013 season. She then moved to Myrtle Beach, SC, to further her future into the entertainment industry, with her Gator 107.9 family!