Florida Georgia Line Recalls Learning Backstreet Boys Choreography & More
Florida Georgia Line recently returned with their brand new album, Can't Say I Ain't Country.
Can't Say I Ain't Country is Florida Georgia Line's fourth full-length studio album and follows their 2016 album Dig Your Roots. The duo's new LP showcases 20 new songs, including singles like "Simple," "Talk You Out Of It" and "Women" which features Jason Derulo. Can't Say I Ain't Country also features collaborations with Jason Aldean ("Can't Hide Red"), and country newcomer Hardy, in addition to several skits with a collaborator called Brother Jervel.
Tyler Hubbard and Brian Kelley explained of Can't Say I Ain't Country, "This has been a long journey, and something we're really excited about. Super happy to have it out to the world. We've been working on this album for about a year and a half now. A lot of work and energy and heart and soul put into this album, so we're very excited. And, hope the world loves it. Hope it changes and impacts some lives for the better."
But before the guys hit the stage, we presented them with the iHeartRadio Box, containing memories and milestones from throughout their career and more. Tyler and Brian took a trip down memory lane and went through some of their biggest career highs like dancing with the Backstreet Boys, performing with Bebe Rexha, filming a music video with Nelly, and so much more. Read on below and watch the video above.
The Anything Like Me EP
Tyler: "What's the memory that comes to mind?"
Brian: "12th & Porter, Nashville, Tennessee."
Tyler: "12th & Porter, probably 'cause I wore that outfit every single show."
Brian: "Yeah, 12th & Porter was a venue in Nashville, Tennessee [that] we kinda cut our teeth playing. It was one of our favorites, and think that was one of the ... It was definitely an EP cover, but we put that picture everywhere when we were playing a show, so."
Tyler: "This takes me back to sitting on the back of my tailgate, the Dodge, drinking a lot of beer and writing a lot of songs."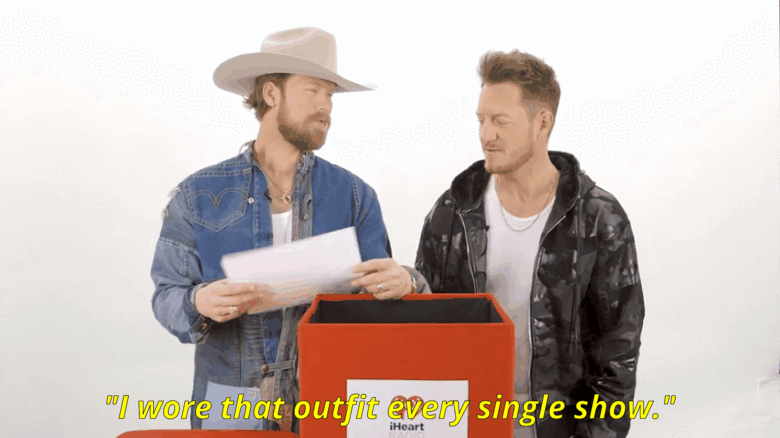 The "Cruise" Remix Music Video with Nelly
Tyler: "Man, this was a fun day. We were out in the desert hanging out with Nelly [and a] bunch of cool cars. This was probably only our second music video we'd ever done, so it was pretty memorable to say the least, with Nelly and trucks and all kinds of cool stuff racing around the desert. We love Nelly and that was probably one of our first hangs. It was good times."
Florida Georgia Line is Born ... at Belmont University
Brian: "Belmont University. Go Bruins! That's where Tyler and I met. That's where we went and both got our degrees from Belmont University in Nashville, Tennessee and ..."
Tyler: "We actually graduated."
Brian: "Heck yeah, we did. That's where it all started for us. It's where we met and developed a friendship. And then we both graduated and started writing songs, moved in together, and Florida Georgia Line was born, so we have Belmont to thank."
Performing on New Year's Eve with Bebe Rexha
Tyler: "New Year's Eve performing with Bebe. Probably one of our first performances together, actually, for the song 'Meant to Be.' That was another career song for us that took it to the next level. Broke a lot of records and stayed at number one for, like, 50 weeks on Billboard. So, we're really thankful for that song, we're really thankful for Bebe, and that was a very, very fun journey that still hasn't ended. So, we're thankful."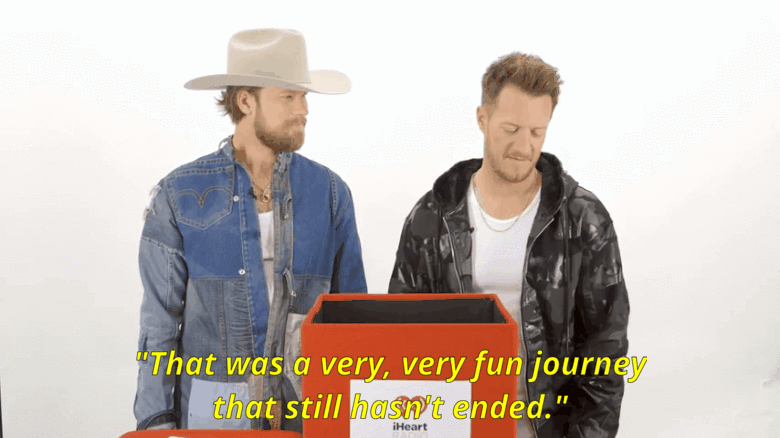 Dancing With The Backstreet Boys
Tyler: "So that was at the ACMs one year, right, when we did that? Yeah, we were out in Vegas, got with Nick, he showed us the dance moves, the choreography. And, we had a few hours to learn it before we performed it on national television, 'cause we decided the night before that we were gonna try to pull that off, at soundcheck or at rehearsal. So that was a cool, I guess I would say, personal challenge to ourselves, that we somewhat pulled off and that was a great year. Good memory. Thank you, Nick. Thank you, Backstreet Boys."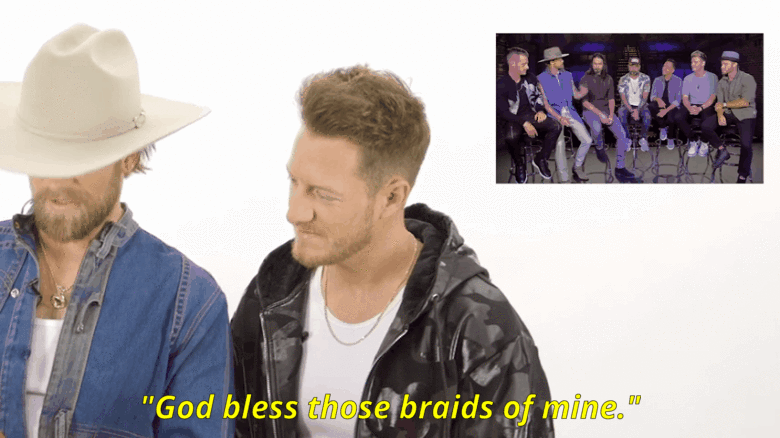 Touring with Luke Bryan in 2013
Brian: "Looks like the 'Dirt Road Diaries Tour,' 2013."
Tyler: "Sweaty, beer-drinking Georgia boy right here. Yeah, we got to go on tour with him in 2013. He's the man. He's become a good friend of ours. Luke was a great mentor. We probably sat side-stage the majority of his shows and took notes and watched him do his thing and very thankful for the opportunity to be out with him to continue to build our brand and kinda connect with his fans as well. It was an amazing, amazing tour. So, thank you, Luke."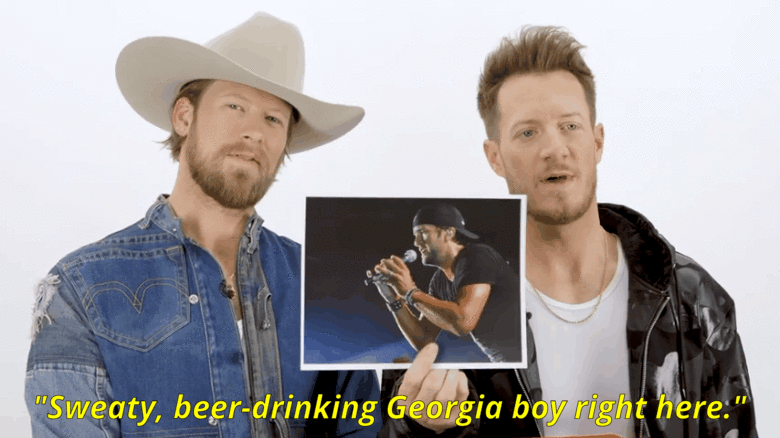 Upcoming "Can't Say I Ain't Country Tour"
Brian: "Florida Georgia Line Plot 36-Date 'Can't Say I Ain't Country' Tour. Woo-woo. Here we go. We got a big tour coming up. It starts July, I think, running through September, I believe, and just excited to get back on the road. We got all new production, new songs in the set, and just a great new positive attitude and outlook on life."
Tyler: "And I like that photo with just long-haired Kelley. No longer lives. Now it's Cowboy Kelley."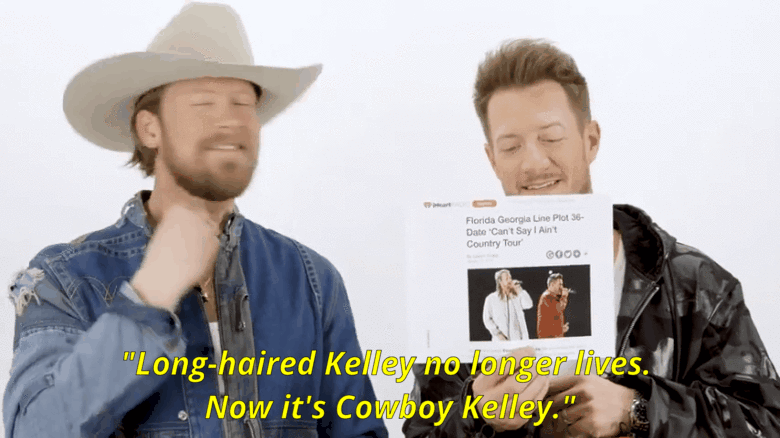 That Time Tyler Tried His Wife's Breast Milk
Tyler: "Filling up a lot of these in the last year. Actually drank a little bit of it myself. I don't know if that's what this memory's supposed to remind me of but I did drink a little bit of breast milk around nine months ago. I don't think my wife thought I would do it, and I figured it wouldn't hurt me, so yeah. Had to give that a shot and see what Olivia was so infatuated with. And we do have a baby coming as well. We have number two on the way. So, we're very excited. It's gonna be an amazing year. Super pumped. It's gonna be awesome."